The Truth about the Butterfly Bush (And What To Plant Instead!)
May 31 2022 – Kelly LaVaute, Digital Storyteller
Updated on 10 August 2023
The enchanting allure of the butterfly bush
Many gardeners are attracted to the butterfly bush (Buddleia davidii) because of its name and signature flowers. These deciduous shrubs, known to some as summer lilacs, can grow up to 10 feet tall, making them appear quite grand in a garden. The way butterfly bush grows, with its arching stems and flower clusters with spikes, truly draws the eye.

But despite its allure, there's a lesser-known truth about butterfly bush. While these seemingly harmless plants do invite and provide nectar to some adult butterflies, the truth is there are better — equally colorful and beneficial to insects — options for gardeners who want to attract butterflies and help them through all stages of their life cycles.
Why you should think twice before you plant a butterfly bush
The butterfly bush is not native to North America; it is a species that evolved in Asia where it was first cultivated as an ornamental. Because of this, not a single native caterpillar in North America can feed on butterfly bush. Without host plants to feed their caterpillars, butterflies can't complete their lifecycle and their populations suffer..
The butterfly bush is a popular ornamental plant because it thrives in most garden conditions, especially in warmer climates and well-drained soils. These conditions allow the butterfly bush to produce abundant seeds that easily spread outside defined garden areas to natural areas. A single butterfly bush flower can produce 40,000 seeds and each bush is filled with many flowers.
In these natural areas, the butterfly bush becomes an invasive plant. It's considered a noxious weed in some regions because it can out-compete native plants and destroy habitat. Native plants are crucial host plants for local caterpillars and other pollinators. 
So while the butterfly bush may appear to attract many butterflies to your yard, it can inadvertently damage the local ecosystem by spreading into natural areas and crowding out the native plants crucial to butterfly life cycles.
The role of host plants in supporting butterflies
Unlike butterfly bush, many native plants serve as host plants for butterflies. A prime example of such a plant is milkweed. This plant, unlike the butterfly bush, provides a place for caterpillars to feed and grow as well as nectar for the adult butterflies.
Garden for Wildlife™ collaborator, entomologist Dr. Doug Tallamy, stated, "People rationalize their perceived need for butterfly bush because they think it helps butterflies. What they really want is a pretty plant in their yard."
Embrace native plants for a flourishing garden
To provide the support butterflies, birds, and other important wildlife needs, gardeners would be well-advised to plant native plants. These plants invite butterflies and support their entire life cycle from caterpillar to adult, contributing to the biodiversity in your garden.
Depending on where you live and your garden goals, there are many beautiful, easy-to-grow, native plants that will better support butterflies and other wildlife. These native alternatives to the butterfly bush can even thrive in small spaces.
Butterfly bush alternatives: embrace the power of native plants
We have compiled some excellent native alternatives to butterfly bush. These plants attract butterflies and are proven to aid their survival better in the US than the invasive butterfly bush.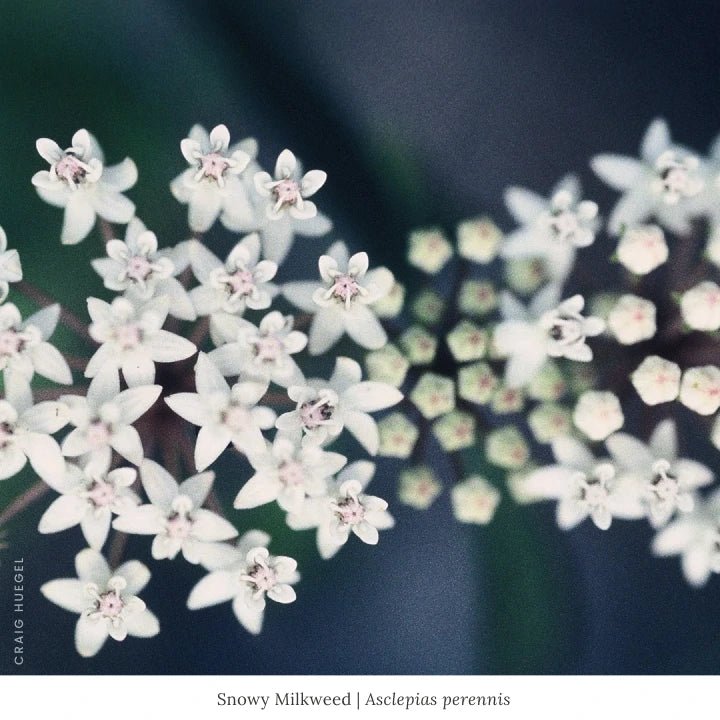 Commonly known as snowy milkweed or aquatic milkweed, this plant is another great substitute for butterfly bush. It's a resilient plant that can return year after year. It's ideal for areas with continuously wet soil and can handle the early to mid summer, early spring, and late fall conditions better than the butterfly bush.
Native Range: AL, AR, FL, GA, IL, IN, KY, LA, MO, MS, SC, TN, TX 
Check your zip to see what ships!
Buy Monarch Munchables six-plant collection (Southeast)
Also known as whorled milkweed, this is a host plant for monarch caterpillars and is ideal for dry, sunny, and part shade areas in summer. This plant, with its pale green-white flowers, serves as a fantastic replacement plant for the butterfly bush, offering much more to the local fauna.
Native Range: AL, AR, AZ, CT, DC, FL, GA, IA, IL, IN, KS, KY, LA, MD, MI, MN, MO, MS, MT, NC, ND, NE, NM, OH, OK, PA,SC, SD, TN, TX, VA, WI, WV, WY
Check your zip to see what ships!
Buy whorled milkweed 3-plant collection
For even more milkweed variety ideas that are better options than a butterfly bush, check out Milkweed for Monarchs' long list.
Also known as orange milkweed or butterfly weed, this perennial presents itself with large, flat-topped clusters of yellow-orange or bright-orange flowers. It's a fantastic option for areas with well-drained soil, requiring full sun for optimal growth.
Orange milkweed grows in compact, small "bush-like" tough plants that can be clustered for maximum impact. This makes them an excellent addition to perennial beds and can help attract those all-important butterflies better than any butterfly bush could.
Native Range: AL, AR, AZ, CA, CO, CT, DC, DE, FL, GA, IA, IL, IN, KS, KY, LA, MA, MD, MI, MN, MO, MS, NC, NE, NH, NJ, NM, NY, OH, OK, PA, RI, SC, SD, TN, TX, UT, VA, WI, WV
Check your zip to see what ships!
Buy orange butterfly milkweed three-plant collection 
Buy Monarch Munchables six-plant collection
Buy Monarch Munchables 12-plant collection
Pink Swamp Milkweed (Asclepias incarnata) is a captivating addition to home wildlife gardens. With vibrant pink blooms, it attracts pollinators like Monarch butterflies and various bee species, contributing to their conservation. Thriving in wetter conditions, it's suitable for rain gardens and supports wetland wildlife. Low-maintenance and adaptable, it blooms from late spring through summer, ensuring a vibrant garden for an extended duration. By incorporating Pink Swamp Milkweed, you enhance your garden's visual appeal while fostering biodiversity and creating a haven for cherished wildlife, making it a valuable asset for home wildlife gardens.
Native Range: AL, AR, CT, DE, FL, GA, IA, IL, IN, KS, KY, LA, MA, MD, ME, MI, MN, MO, MS, NC, ND, NE, NH, NJ, NY, OH, OK, PA, RI, SC, SD, TN, TX, VA, VT, WI, and WV
Buy Pink Swamp Milkweed Plant Sets
Check your zip to see what ships!
The American Beautyberry Shrub is a captivating native plant that adds a burst of vibrant color to any garden. This deciduous shrub is renowned for its stunning display of brightly colored berries that cluster along its arching branches.
Its white flowers offer nectar to native bees, and it serves as the caterpillar host plant for the spring azure butterfly and the snowberry clearwing moth.
In the late summer and fall, the American Beautyberry Shrub transforms into a show-stopping spectacle with its lustrous, iridescent purple berries. These berries not only serve as a visual delight but also provide a valuable food source for a variety of wildlife, including birds and small mammals.
This shrub prefers well-drained soil and thrives in full to partial sun, making it a versatile choice for different garden settings. With its manageable size and bushy growth habit, the American Beautyberry Shrub can be a splendid addition to perennial beds or used as an eye-catching focal point in your landscape design.
Native Range: AL, AR, FL, GA, LA, MS, NC, SC, TN, TX, VA
Embrace the beauty of nature with an American Beautyberry Shrub.
Buy American Beautyberry Shrubs
A final word on native plants versus butterfly bushes
Instead of opting for the butterfly bush, consider these alternatives. The impact of these native plants on the local butterfly population, and the ecosystem as a whole, will be significantly more positive.
In the battle of butterfly bush vs. native plants, the latter undoubtedly triumphs in terms of supporting butterflies. The native plants provide nourishment and homes for local butterflies, other pollinators, and even birds, enhancing your garden's biodiversity.
Check out our list for even more native milkweed variety ideas that are better options than a butterfly bush. Not only do these alternatives provide a beautiful addition to your garden, but they also play a significant role in supporting your local wildlife.
Butterfly Bush FAQs
What are the risks when growing a butterfly bush?
Butterfly bushes grow and spread aggressively, often out-competing native plants. This can disrupt local ecosystems and decrease food and habitat availability for beneficial insects and other wildlife.
Can butterfly bushes harm the butterfly populations they attract?
While butterfly bushes can attract adult butterflies with their flower spikes, they don't serve as host plants for the larval caterpillar stage of butterflies. Butterfly species need resources in all stages of life. This mismatch can disrupt butterfly life cycles and contribute to the decline of local butterfly populations.
What's the impact of Buddleia davidii on native plants?
Buddleia davidii can out-compete and crowd out native plants due to its fast growth and seed production. This could detrimentally impact native ecosystems.
What are some native alternatives to butterfly bushes?
Native alternatives to butterfly bushes that also attract butterflies include butterfly weed, native host plants, and other native flowering plants. These can provide food for adult butterflies and also serve as host plants for their larvae.
Why should I choose native plants over butterfly bushes for my pollinator garden?
Native plants provide food and habitat for both the adult butterflies and their caterpillars, as well as other pollinators, songbirds, and other wildlife. Unlike butterfly bushes, they don't become invasive or disrupt local ecosystems.
Are butterfly bushes bad for all gardens?
While butterfly bushes can provide aesthetic appeal due to their deep purple, pink, or white flower spikes and can attract adult butterflies, their aggressive growth and potential to become invasive can make them a problematic choice in many gardens, especially in areas close to natural habitats.
Is it difficult to control the spread of butterfly bushes?
Yes, controlling the spread of butterfly bushes can be challenging. They grow rapidly and their seeds spread aggressively into natural areas, making them a potential noxious weed. It's recommended that if you have butterfly bushes, you should remove the spent flower clusters to prevent seeding. Each flower can produce 40,000 seeds!
What other issues can arise when you plant butterfly bush?
Butterfly bushes can pose other problems. They can get root rot  if the soil isn't well-drained, and their height — up to 10 feet tall — can overshadow and crowd out smaller plants in the garden and look unruly. It's important to consider these potential problems before deciding to grow a butterfly bush.


More resources:
Ready to turn your yard into a wildlife habitat?
Take our quiz to find the right plants for your yard and area!